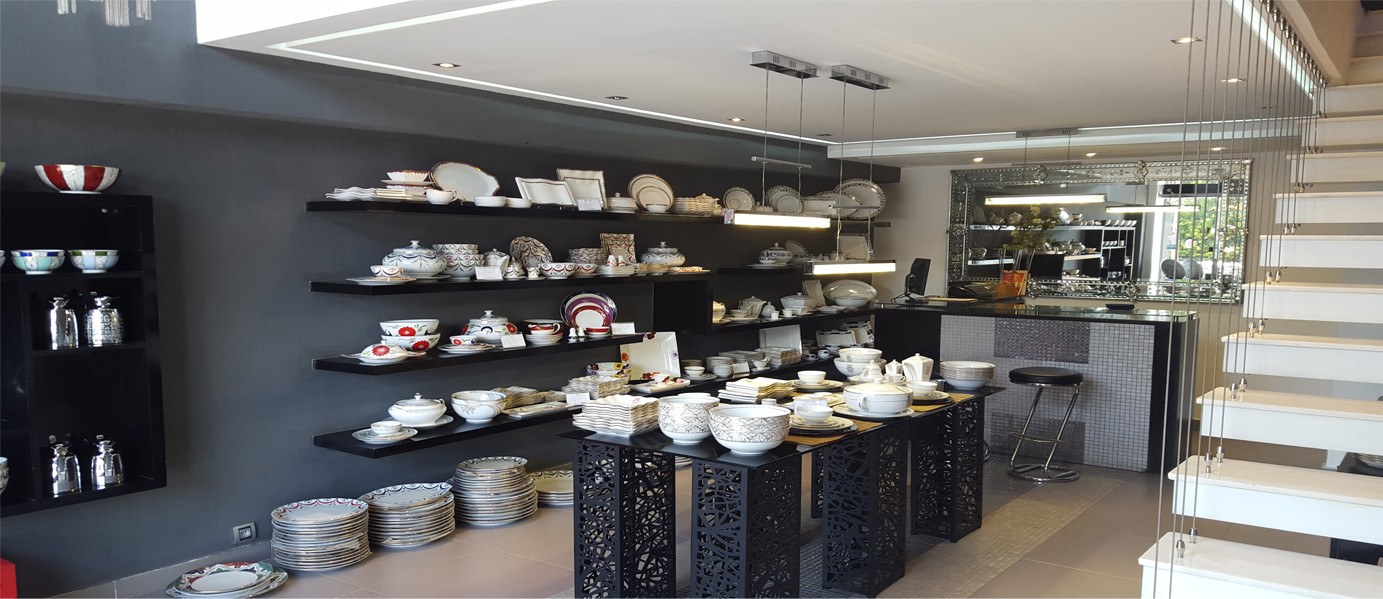 Among the most deeply rooted Moroccan traditions, Fez porcelain is one of the most valuable legacies. To continue to make it live and shine, PORCELAINE DE FÈS, through its craftsmen, puts at the service its high technicality and its experience at the service of an irreproachable quality.
Our mission is not only to deliver pieces of exceptional production, but also creative since we strive to bring a touch of modernity to the oldest models. We produce, and restore, the tradition of Moroccan porcelain to decorate your tables, your interiors, and your living spaces.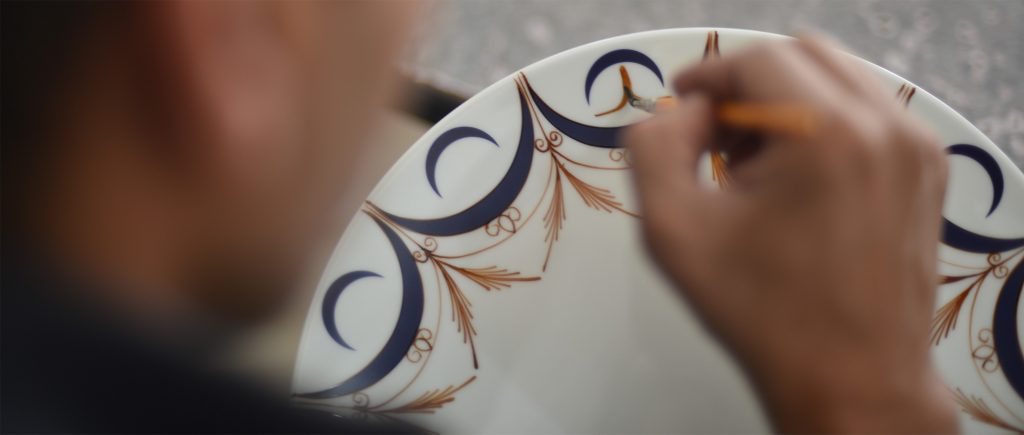 MANUFACTURING PROCESS
Depending on the model and the collection, the setting of the decor is more or less complex.
Step 1 – The design
In most cases, we apply the decalcomania, from the French décalcomanie, principle. It is a decorative technique by which engravings and prints are transfered, by hand, to white porcelaine. This transfer is made by dipping the decalcomania into water to transfer the design from its paper support to the porcelaine piece.
In the handmade collections, the designs are all painted by our artisans who, as you can imagine, are extremely skilled as they work with a huge precision and a sense' of details, using a variety of brushes to reach the desired outcome.
Step 2 – Backing the porcelain
When it comes to baking, the process is slightly different whether the porcelain is handmade or designed thanks to decal.
Indeed, when the articles are designed through decalcomania, there is a unique very high temperature baking (800 to 1280 celcius degrees) that help fixing the design.
If the articles are handmade or need final touchings, there is a first 740 celcius degree baking that help fixing the design after the finishing process.
Step 3 – Finishing
The threads and fittings, the gold and the platinum are all handmad : they represent the final step of the designing. When the orders are tailored for the customers, we can even provide special finishings like a relief gold pose.
Step4 – Second baking
After these finishings, if needed, a second baking at 740 celsius degrees is essential to fix the finishings and/or the platinum, threads and fittings.
Step 5 – Sandblasting
For our premium quality articles, especially those which contain an important amount of gold, a supplementary step of sandblasting is essential. During this step, the article is robbed with a sand cloth to give to the design all its shining and beauty.
Step 6 – Quality control
After all these different steps and before every piece leaves our workshop, our products are carefully controlled and those who aren't established conform to our quality requirements are disqualified.